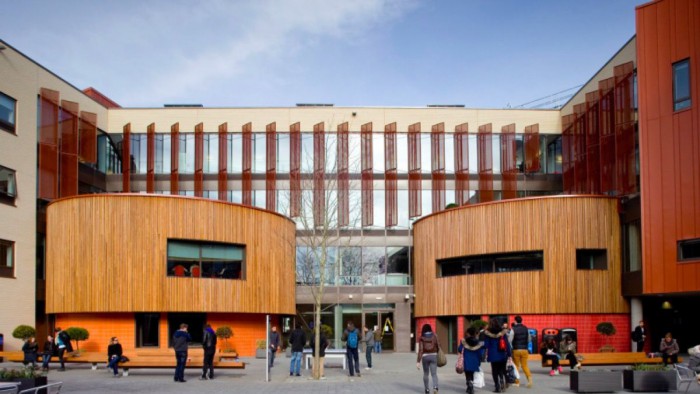 Anglia Ruskin University
Località
Cambridge (campus principale) e campus a Londra, Peterborough e Chelmsford

Fondata nel 1858 (come Cambridge School of Art) e diventata un'università nel 1992
Iscrizioni totali 25.500, con quasi 20.000 su programmi di laurea.

La Anglia Ruskin University (ARU) fa risalire la sua storia al 1858, quando fu fondata la Cambridge School of Art. Si è fusa con altri college e istituti per formare la Anglia Ruskin University. Grazie all'eredità creativa della scuola, l'università offre una vasta gamma di programmi nel campo del design, delle arti visive, del cinema, dell'architettura e dei media. Ma il più noto di tutti i dipartimenti di ARU è la Facoltà di Salute, Educazione, Medicina e Assistenza Sociale. Solo nove università nel Regno Unito offrono un corso di optometria, e la Anglia Ruskin University è stata la prima università ad offrire il programma. È anche rinomata per i suoi programmi di infermieristica, ostetricia, salute e assistenza sociale. Nel 2018, ARU ha aperto la sua nuova School of Medicine, un edificio all'avanguardia costruito appositamente per gli studenti dei programmi di medicina. E il programma di Medicina è stato aggiunto ai programmi esistenti di scienze mediche e salute. 20 milioni di sterline sono stati investiti in questo progetto innovativo.
Tutti i campus dell'università sono stati recentemente rinnovati. Nel campus principale di Cambridge c'è un moderno edificio per la School of Business, il Mumford Theatre (che ospita sia studenti che attori professionisti) e la Ruskin Art Gallery. E il campus di Chelmsford vanta una nuova Scuola di Medicina e un grande centro sportivo moderno.
La posizione dell'università è vantaggiosa. Cambridge non ha bisogno di descrizioni: è una città che tutti associano alla vita studentesca, all'architettura e alla storia. Chelmsford è una delle città più giovani d'Inghilterra. Ha qualcosa per tutti - negozi, ristoranti, caffè e bar, nonché attività e intrattenimento tutto l'anno. Peterborough è una fiorente città moderna con un sacco di significato storico. La Cronaca di Peterborough è l'unico manoscritto storico sopravvissuto che racconta gli eventi di diversi secoli dell'Inghilterra medievale. E il campus ARU di Londra si trova nel cuore della capitale britannica, nella zona di Farington. Questo posto è ideale per i giovani ambiziosi, che vogliono essere nel cuore di una Londra cosmopolita, moderna e sempre in movimento.
Galleria
Programmi di laurea:

Animal Sciences: Animal Behaviour, Marine Biology with Biodiversity and Conservation, Veterinary Nursing and Applied Animal Behaviour, Zoology
Architecture, Construction & Surveying: Architectural Technology, Architecture, Building Surveying, Civil Engineering, Construction Management
Art & Design: Digital Media, Fashion Design, Fine Art, Graphic Design, Illustration, Illustration and Animation, Interior Design, Photography
Business & Marketing: Business and Events Management, Business and Healthcare, Business and Human Resources Management, Business and Law, Business and Marketing, Business and Tourism, Business Management, Business Management and Finance, Business Management and Leadership, Economics, Events Management, International Business Management, Marketing, Tourism Management
Computer Games: Computer Games Art, Computer Gaming Technology
Computer Science & Digital Technology: Artificial Intelligence, Computer Networks, Computer Science, Cyber Security, Electronic Engineering, Software Development
Education: Early Childhood Studies, Education, Primary Education Studies
Engineering: Civil Engineering, Electronic Engineering, Mechanical Engineering, Medical Engineering
English Studies & Writing: Drama and English Literature, English Language, TESOL, English Literature, Philosophy and English Literature, Writing and English Literature, Writing and Film Studies
Film & Media: Digital Media, Drama and Film Studies, Film and Television Production, Film Studies and Media Studies, Film Studies, Media Studies, Photography, Writing and Film Studies
Finance: Accounting and Finance, Banking and Finance, Business Management and Finance
Health Professions: Operating Department Practice, Paramedic Science, Public Health
History, Philosophy & Social Studies: Criminology and Sociology, History, Philosophy and English Literature, Politics, Sociology
Law, Crime & Investigation: Crime and Investigative Studies, Criminology, Criminology and Policing, Criminology and Sociology, Cyber Security, Forensic Science, Law, Policing and Criminal Justice, Professional Policing, Psychology and Criminology
Medical Sciences: Applied Nutritional Science, Biomedical Science, Forensic Science, Medical Engineering, Medical Science, Pharmaceutical Science
Medicine: Medicine
Music & Performing Arts: Audio and Music Technology, Drama, Drama and English Literature, Drama and Film Studies, Electronic Music, Music, Performing Arts, Popular Music
Nursing & Midwifery: Midwifery, Nursing – Adult, Nursing – Child, Nursing – Mental Health, Operating Department Practitioner
Psychology: Psychology, Psychology and Criminology, Psychology with Clinical Psychology
Social Work: Social Work
Sport: Sport and Exercise Science, Sport and Exercise Therapy, Sports Coaching and Physical Education, Strength and Conditioning with Rehabilitation
Vision & Hearing Sciences: Ophthalmic Dispensing, Optometry Boptom

La procedura di ammissione si effettua attraverso il sistema UCAS. Baltic Council for International Education è un centro UCAS registrato ufficialmente in tutti i Paesi Baltici e in Polonia.

Registrati per una consulenza gratuita e approfitta del nostro servizio: Undergraduate Admission Assistance Service